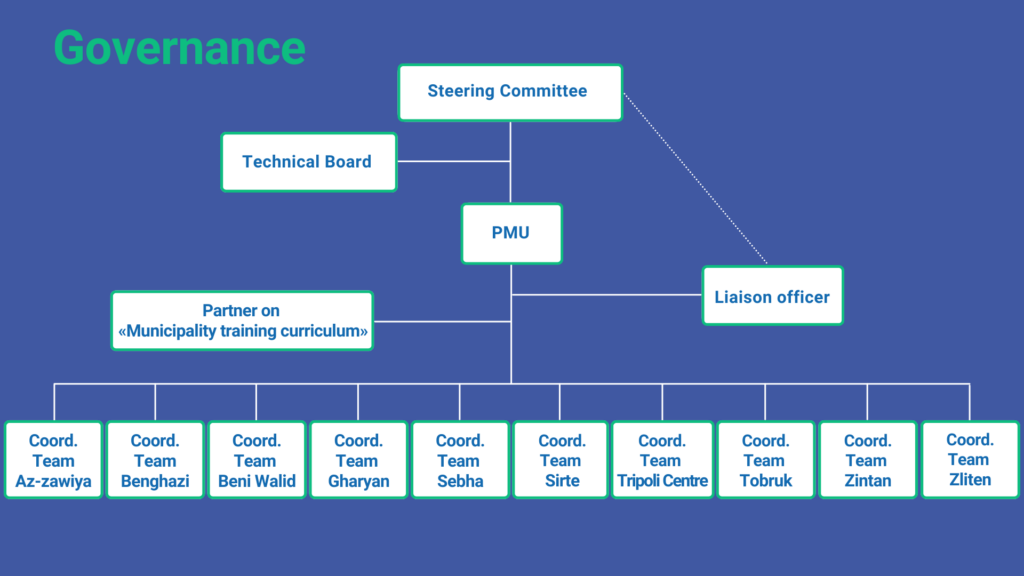 Steering Committee
It comprises fifteen members representing all partners: two from PAT, one from FVG, one from each of the ten municipalities, one representative from the EU Delegation to Libya and the project Liaison Manager. It meets at least twice a year and is responsible for the institutional leadership and the internal evaluation of the REBUILD project.
Technical Board
It comprises twenty-three members representing project coordinators of Libyan municipalities and universities, PAT, one external expert involved in the capacity building activities of the Action and one representative from EUD. It meets at least twice a year. The Technical Board monitors overall project implementation (in close collaboration with the Project Management Unit) and it evaluates the capacity building process and the community of practices. It reports to the SC.
Project Management Unit (PMU)
It is based in Trento and is in charge of overall project management, supporting the activities of the SC, TB and Local Coordination Teams. It comprises a Project Manager, an Operation Manager, a Senior Training and Facilitation Officer, a Senior Training Officer, a Financial Manager, an Administrative/Logistic Assistant, a Communication manager and the Friuli Venezia Giulia officer and administrator.
Local Coordination Teams
In each of the 10 Libyan municipalities, a Local Coordination Team is established for coordinating and monitoring activities at the local level. It comprises the Municipality Project Manager, the Municipality Media Officer and the University Project Officer (and assistant, when present).