Mattia Gottardi, Councilor of the Autonomous Province of Trento
responsible for Local authorities and relations with the Province Council
The Autonomous Province of Trento, within the scope of the competence on international cooperation that was assigned to me, supported and supports the REBUILD project. On the one hand, it is a project that we care about due to the fact that it is a way to implement a collaboration among institutions and local bodies of different and distant territories, on a basis of equal collaboration and with a cooperation procedure coming from the needs of the citizens themselves.
REBUILD is also an opportunity for the Province to enhance its experience of government and local territorial and sustainable development and to be able to share it with the 10 Libyan municipalities involved in the project. It is about creating a capacity building process for administrators and officials of Libyan municipalities that adhere to the Nicosia Initiative, thus contributing to the definition of territorial policies coherent with the "2030 Agenda for Sustainable Development of the United Nations". In this way REBUILD intends to strengthen the services offered to about 2 million people, who live in the ten municipalities involved, Az-Zawiya, Benghazi, Beni Walid, Gharian, Sebha, Sirte, Tobruk, Tripoli, Zintan, Zliten. 
More competent local authorities aware of their role to address local needs increase the confidence of the citizens to actively participate in public debate and to lay the foundations for an orderly and democratic development of the country.
Furthermore, thanks to REBUILD, the partnership between Libyan and European local authorities represents an opportunity to become players in the broader framework of international relations in the Euro-Mediterranean area, exchanging/comparing experiences and building relationships that start from the territories, by local actors.
International cooperation, as REBUILD demonstrates, is an opportunity for our territory to build relationships with other actors and to act towards the growth and development of areas that are decisive for the geopolitical balances that impact Europe, Italy and, consequently, also on Trentino. To cooperate with institutions of different territories, apparently distant from ours, and to establish a peer-to-peer dialogue also allows Trentino as a whole to grow in terms of institutional reputation on a national and international level.
—
Video presentation of the project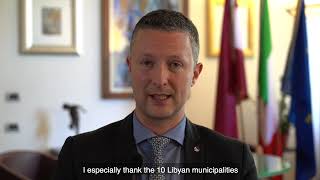 Read the other articles of the first newsletter:
2. Better services to the people for stability, peace and prosperity in Libya – Sandra Goffin, Head of Cooperation, Delegation of the European Union to Libya
3. Building capacities of the employees of all Libyan municipalities – Tamim Al Na'as, Deputy Secretary General, Supreme Council of Local Administration – Libya
4. Friuli Venezia Giulia region in the "REBUILD" project – Presidency of the Friuli Venezia Giulia Region, General direction, International Relations and European Programming Service
5. The training proposed by the Centre for International Cooperation – Andrea Anselmi, Senior training and facilitation officer, International Cooperation Centre